Open Tuesday-Friday 3pm-10pm

Saturday 11am - 10pm
Deep Creek Lake Family Activities
So many Deep Creek Lake Family Activities to enjoy when it's sunny...but when it rains (or snows, or freezes) ...the options get a bit limited. It happens when there are an average of 151 precipitation days a year! 
We are the ONLY 10 pin bowling center in the resort area around Deep Creek Lake (the other closest are in LaVale, Cumberland and Morgantown), and the only family fun center here with pool tables, ping-pong, and shuffleboard!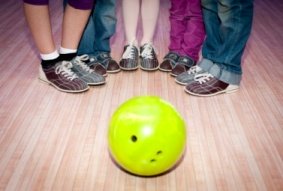 Deep Creek Lake Family Activities for the WHOLE Family!!
Our Deep Creek Lake Bowling costs $3.79 per person, per game, and shoe rental is $1.99. The table games (pool, shuffleboard, ping-pong) are $5 per half hour, and our video arcade has bonus play for all levels of purchase above $20, and it also has a redemption area with all kinds of fantastic prizes.
Our menu has some great old stand by food like traditional pizza, salads, soft serve ice cream and wings, as well as some specialty items like loaded boardwalk fries, and flatbread pizzas with BBQ Chicken and Buffalo Chicken. We also have bottled and draft beers, as well as hard ciders and wine coolers.  
*Cosmic* Weekend Deep Creek Lake Family Activities
On Friday and Saturday nights, Deep Creek Lake Family Activities at The Alley turn COSMIC! We  have our cosmic bowling from 7-10, for a fun, dance -club- type atmosphere. During cosmic bowling, there are black lights, along with over 750 pounds of specialty lights in all colors for our version of an indoor fireworks display.
Our Open Bowling Days are Tuesday, and Friday through Sunday.The other days of the week, we have some short times for open bowling between league times. Tuesdays through the fall are $2 Twosdays! $2 games all day from Noon to 10pm.
Please give us a call, or shoot us a note, if you have any questions about hosting a party with us, for groups from 5-150. We provide food, setup, cleanup and specialty features for your event. From family reunions, to kid's birthday parties, bachelorette parties to anniversary parties, and team building events! We can make your event fun and hassle free!
We reserve lanes only with a booked reservation, can accommodate all sizes of groups, and can make everything much easier on the event coordinator. Our menu can be expanded for special events, and activities in the center can be included in pricing for an event, or added on later.
We look forward to seeing you sometime soon for some fun, indoor family time!!
Western Maryland Bowling Leagues
Go from Deep Creek Lake Family Activities to The Alley Home Page