Open Tuesday-Friday 3pm-10pm

Saturday 11am - 10pm
Deep Creek Lake Activities
Yes, Deep Creek Lake Activities run the gamut of adventure, from beautiful hikes and fishing, to boating and water skiing. AND, thanks to this spring's HUGE renovation, there is a great new space to have fun with friends and family in Oakland, close to the lake!
This bowling center has been running down for years, but we have gutted it and have a brand new, state of the art center, with tons of fun all packed into one building!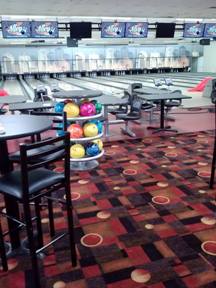 Ten Pin Bowling, with beautiful brand new lanes and pinsetters, colorful new bowling balls, and beautiful new bowling shoes...it doesn't get much better than this! We also have two beautiful Brunswick pool tables, pristine shuffleboard table, and two FUN ping pong tables! This place brings Deep Creek Lake Activities inside with STYLE! :)
There are tons of screens scattered throughout the center, with some great sports programming, as well as the fantastic music video system we have a subscription to, that offers everything from classic party hits to the newest in Country, Rock and Pop. There are even a few Christian music channels, if you are interested in having an outing with those friends from your church, and want to book an event! 
Garrett County Bowling Leagues
Go from Deep Creek Lake Activities to The Alley Home Page